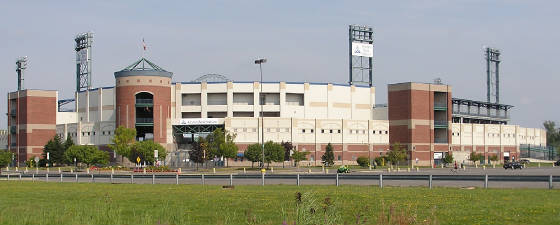 TEAM ::: SYRACUSE CHIEFS
LOCATION ::: SYRACUSE, NEW YORK
MY FIRST GAME ::: JUNE 27, 1998
OPPONENT ::: NORFOLK TIDES
LEVEL ::: INTERNATIONAL LEAGUE AAA
FORMERLY KNOWN AS : P & C STADIUM & ALLIANCE BANK STADIUM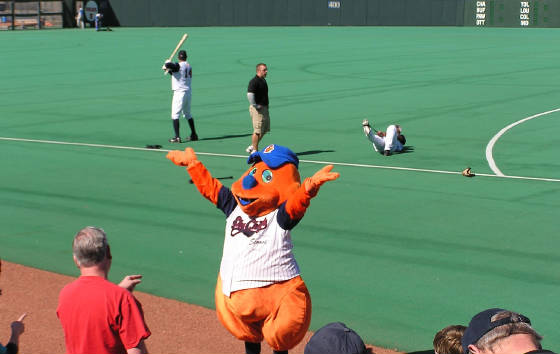 RATINGS
BALLFIELD ::: A
SCOREBOARD ::: B -
FACILITIES ::: A
FOOD ::: B
MASCOT ::: C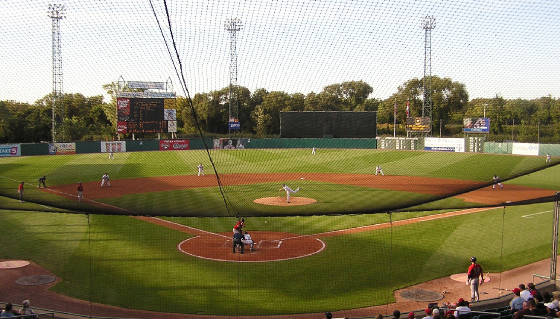 MY TAKE ON THE PARK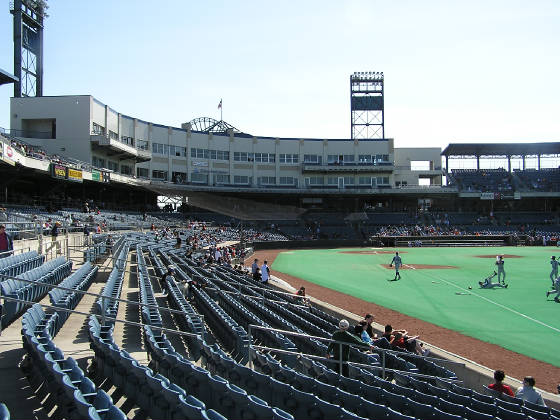 Alliance Bank Park in Syracuse has gone through a few changes over the years. It has had a couple of names but the most significant change is that they finally have a grass field here. If you don't think grass makes a difference, just look at the pictures with the plastic stuff as opposed to the real stuff.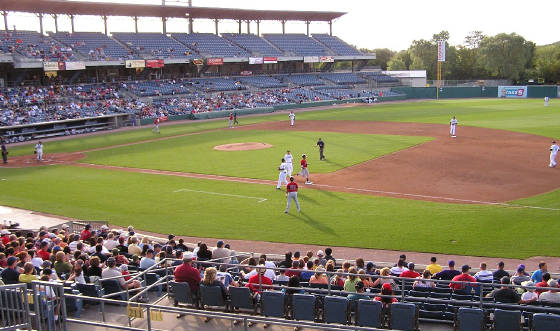 The park here is a simple multi level design with comfortable blue seats running from foul pole to foul pole which are close to the action.

One of the great things I have always said about traveling to upstate NY to see a ballgame are the fans. The most original hecklers and fun hecklers in baseball can be found scattered in upstate NY. Not only are there heckles humorous, they are very knowledgable as well making it even better.

The knowledge of the Syracuse fans is really something I have to piont out. Not only do they know the hometown Chiefs, they are also familiar with the opponent and of course, the umpires.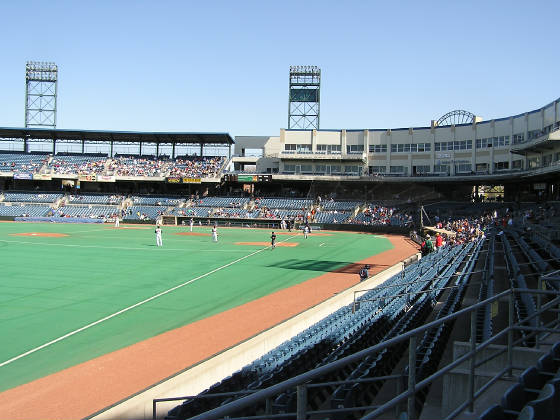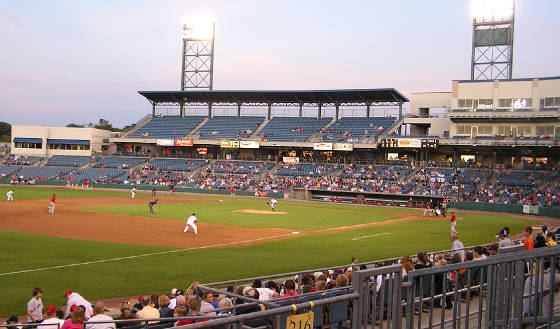 Walking around the park is an Orange Blob, that is Scooch, the mascot. He flops around during the game and makes a few appearances on the field. being Triple A, his appearances are limited.
The scoreboard here is quick to update ball and strike counts, but otherwise pretty simple in that it just gives the line score. However, previous at bats are listed in case you miss a batter in your scorebook.
The food here is OK serving some local favorites like salted potatos and Saranac beer.

A trip to Syracuse may surprise you, especially if you travel to other Minor League games. They get $3 for parking but the most expensive ticket is $10. Less than some Short Season 'A' parks and Syracuse is 'AAA.' Once your ticket is purchased walk up the stairs to the concourse, pick up your scorecard from a classic sounding vendor, the vendors here almost have a Detroit attitude. Offensive to only those who don't get the whole ballpark experience. pick up a local brew and a hot dog and watch the new affiliate of the Nationals play on natural grass.
If planning a trip to Syracuse, a good day / night trip would include the 'AA' Binghamton Mets 70 miles south at NYSEG Stadium or a visit to the Finger Lakes region and the Auburn Doubledays who play at Falcon Park in Auburn, NY.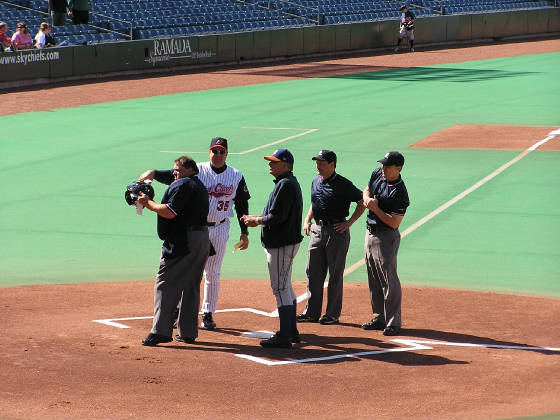 THE LINE UPS
Norfolk Tides Manager :::
24 Rick Dempsey
Syracuse Skychiefs Manager :::
35 Terry Bevington
NORFOLK TIDES
36 Brent Bowers cf
3 Ralph Milliard 2b
44 Benny Agbayani rf
21 Ruben Sierra dh
39 Rick Wilkins c
27 Steve Decker 1b
11 Todd Carey 3b
4 Todd Haney lf
16 Robert Eenhoorn ss
Scott Sauerbeck p / WP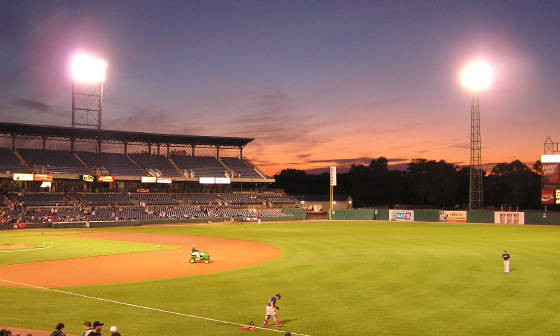 SYRACUSE SKYCHIEFS
6 Pat Kelly 2b
22 Jose Herrera rf
18 Jose Cruz cf
28 Pat Lennon dh
33 Tim Costo 1b
12 Santiago Henry 3b
10 Anthony Sanders lf
19 Adam Melhuse c
13 Tomas Perez ss
32 Roy Halladay p / LP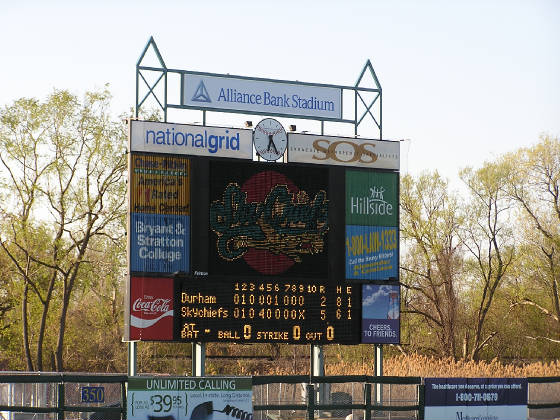 NORFOLK TIDES 032 000 000 5 7 0
SKYCHIEFS 000 000 000 0 5 1
TIME ::: 2:35
ATTENDANCE ::: 4,749
WEATHER ::: 75, CLOUDY
SEND ME AN E-MAIL

LINKS
The Official site of the Syracuse Chiefs
Where the Syracuse Chiefs used to play ... My MacArthur Stadium site
For an Excellent pre-game meal - The Dinosaur Barbecue in Syracuse, about 5 minutes from the park
Syracuse weather from WEATHER.com

© 2000-2015 UNCLE BOB'S BALLPARKS
I AM IN NO WAY AFFILIATED WITH ANY OF THE TEAMS ON THIS PAGE ... THIS PAGE IS MEANT FOR INFORMATION PURPOSES ONLY.